DEARBORN HEIGHTS, MI (4/15/16) –  Four new Automated External Defibrillator (AED) devices were recently purchased and installed at the Dearborn Heights Justice Center thanks to the efforts of the Dearborn Heights TIFA in cooperation with the city's Fire Department.
What is an AED?
An automated external defibrillator is a lightweight, portable device that delivers an electric shock through the chest to the heart.  The shock can stop an irregular heart rhythm and allow a normal rhythm to resume following sudden cardiac arrest.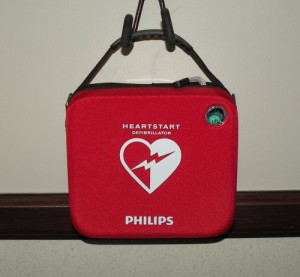 How does an AED work?
A built-in computer checks a victim's heart rhythm through adhesive electrodes.  The computer calculates whether defibrillation is needed.  If it is, the rescuer in prompted to press the shock button on the AED.  This shock momentarily stuns the heart and stops all activity.  It gives the heart the chance to resume beating effectively.  Instructions guide the user through the process.
"When it came to our attention that the Justice Center had only a couple AED devices, we asked the Fire Chief to conduct a survey of the building and let us know how many AEDs are needed for adequate preparedness," said TIFA Administrator Carmine Oliverio.  "A relatively small investment in these devices can make a big difference in saving a life when every minute of response time matters."
Units are now located in strategic, easy-access areas on both floors throughout the Police Department and 20th District Court.