DEARBORN HEIGHTS, MI (5/21/18) –  On the morning of Saturday, May 19, a group of volunteers rehabilitated the flowerbeds in front of the two "Beech Daly Central Business District" signs welcoming motorists along South Beech Daly Street — one at Annapolis and the other at Amherst.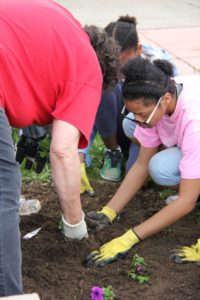 Dearborn Heights TIFA Board Member Mr. Donald Willis , who is also a member of the Westwood Board of Education, led the group together with his wife Stacey.  Five students from Thorne, Tomlinson and Robichaud schools volunteered their time to help prepare the soil and install new flowers, plants and edging generously donated by members of the community.  Some of the gardening supplies were also donated by Wayne Metro Club 21, an after-school program at Tomlinson Middle School.
"TIFA has invested a lot of effort and funds over the years to help beautify our business corridors, and we are so happy to see members of our community – especially the young people – taking an active role in that process too," remarked TIFA Administrator Carmine Oliverio.
Thank you to the dedicated volunteers, as well as all those who contributed toward the materials and tools for this project.  Our community is proud of you!