DEARBORN HEIGHTS, MI (2/18/21) –  As 2020 came to a close, the Dearborn Heights Justice Center received a welcome new upgrade.  After 17+ years since the Justice Center was built, the original sign in front of the City's Police Department and 20th District Court had reached the end of its life and needed to be replaced.  Thanks to a financial contribution from the Dearborn Heights Tax Increment Finance Authority (TIFA) for the entire cost of the replacement, a brand new high resolution, full-color LED sign was purchased and installed.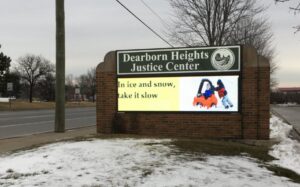 The new electronic display and housing was installed inside the existing brick structure, keeping the aesthetics of the marquee in relation to the building.
Using the latest in digital display technology, the Police Department now has the ability to quickly and clearly communicate community messages, alerts and notifications, including posting photos of missing children and other necessary subjects.
"Our Police Department has done a fine job of building a relationship of openness and respect with our community, and we are happy to do whatever we can to assist them in that effort," said TIFA Administrator Tom Rosco.  "Every opportunity for communication and awareness is of benefit to our entire city."
In addition to the purchase of this sign, the Dearborn Heights TIFA has covered the cost of various improvements to the Justice Center over the years in addition to paying the annual bond payments for the cost of constructing the facility which opened in 2003.